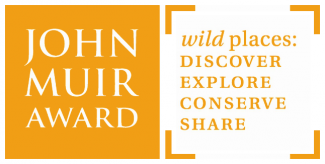 Welcome to the John Muir Award in the Mendip Hills AONB – Connect with, enjoy and care for wild places.
What is it?
The John Muir Award is a national environmental award that encourages people of all backgrounds to connect with, enjoy and care for wild places through a structured yet adaptable scheme. The Award isn't competitive but should challenge each participant. It encourages awareness and responsibility for the natural environment, in a spirit of fun, adventure and exploration.
What does it involve?
Four Challenges are at the heart of each John Muir Award. To achieve an Award each participant must:
Discover a wild place
Explore its wildness
Conserve – take personal responsibility
Share experiences
Participants should show enthusiasm and commitment, and have an awareness about John Muir. There are 3 levels of the Award, encouraging a progressive involvement. The same 4 challenges are repeated for each level, with increased involvement in time, activity and ownership.
Discovery Award (introductory level) minimum 4 days
Explorer Award (intermediate level) minimum 8 days
Conserver Award (advanced level) minimum 20 days over 6 months
The Mendip Hills AONB is a fantastic place to complete your award. There are a wide variety of opportunities to take part as a group, individual or family.
---