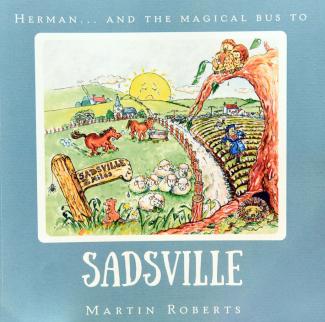 The Mendip Hills AONB is proud to sponsor 'Sadsville' a book written to help vulnerable primary school children who may be suffering abuse or neglect.
'Sadsville' has been written by local author Martin Roberts, who is best known for his role as BBC TV presenter of Homes under the Hammer, in support of the NSPCC Schools Programme. Every primary school child in year 5 and 6 (9 & 10 year olds) in Somerset will receive a free copy of the book, and it is hoped the book will be made available to other schools in the South West region as well as nationally.
Martin – a father of two who lives in North East Somerset – is a long standing champion of the NSPCC and has created a series of children's books called 'The Villes'. In each book the children read about something going wrong in that Ville and the story gradually unravels. The hero of the stories – Herman – solves the problem. The books encourage problem solving and Sadsville ends by telling the children how to get help if they have a problem for any reason, including directing them to the NSPCC's support service Childline which is celebrating its 30th Anniversary this year.
Martin Roberts said: "The idea behind the book series is that by the end of each book the children will learn how to find a way of solving issues that concern them in their own world. Unfortunately, many children suffer neglect and abuse and it is crucial we continue to identify new ways to reach out to children so that they feel supported particularly in their early years. I have been overwhelmed with the support given to this project. It has been a truly humbling experience. Ideally, I would like to be able to take this project to further local education authorities and make the books available to all school children aged 9 to 10 nationally."

---