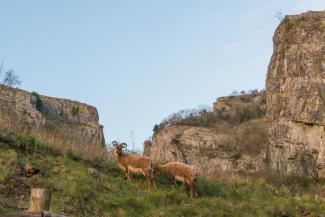 The Mendip Hills are one of the most geologically diverse areas of the United Kingdom, where rocks covering over 300 million years of geological history are exposed in many natural outcrops and quarries.
Carboniferous Limestone has created what is known as 'karst' landscape, which is formed when percolating rainwater dissolves rock, creating gorges, sink holes, and caves. Streams emerge at the foot of the hills where the limestone meets less permeable rock. Many of the geological features are designated SSSI (Site of Special Scientific Interest) and/or Local Geological Sites.
Elsewhere older rocks of Old Red Sandstone form the highest peaks of the Mendip Hills, such as Black Down, the highest point on the Mendips at 325m. These acidic rocks support areas of heathland habitat.
The fascinating 'Netherworld' (or underground landscape) of the Mendips is nationally important and significant, and its popular cave exploration is on-going. In 2012 the largest Mendip cave was discovered and has some of the best stalactites and stalagmites in the UK.
---