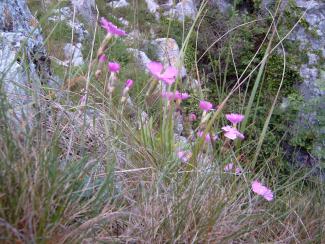 The Mendip Hills have many types of habitats due to the geology, soil types, weather patterns and the human influences of agriculture and mining.
Habitats include limestone grassland, acid grassland, calaminarian grassland (occurring on lead mined spoil heaps), heathland, meadows, old quarries, hedgerows, drystone walls, orchards, and semi-natural ancient woodland.
The limestone crags and cliff faces support many plant species including the rare and protected Cheddar pink. Found only in Cheddar Gorge, the Cheddar pink is known as the flower of Somerset. The thin limestone soils support grassland that is home to a variety of insects and invertebrates. Many caves provide valuable roost and hibernation sites for bats.
The Mendip Hills AONB contains 27 sites designated for their national importance as a Site of Special Scientific Interest (SSSI), 2 National Nature Reserves. Many sites are also designated for their biodiversity under European designations.
---