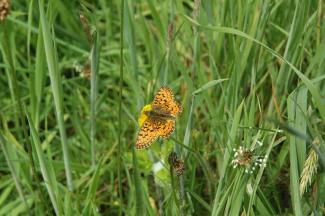 The Mendip Hills have a special and characteristic flora and fauna.
Birdlife is diverse in the Mendip Hills including buzzards, willow warblers and green woodpeckers. In the limestone grassland areas, look out for and listen to skylarks, meadow pipits and stonechats.
The AONB's many habitats are home to many species of insect, including the dark green and small pearl-bordered fritillary butterflies. Their larvae live on the leaves of dog violet whilst the adults feed on the nectar from brambles.
The spectacular caves in the Mendips are ideal homes for bats. They're used as winter roosts by the lesser horseshoe and greater horseshoe bats. Wait around dusk, for a chance to see them emerge and search for insects high amongst the trees.
The Mendip Hills also support nationally important populations of the common dormouse.
A few plant species are found nowhere else in the UK, for example the Cheddar pink (the flower of Somerset). Other rare plants include purple gromwell, starved wood-sedge, and certain mosses and lichens.
---