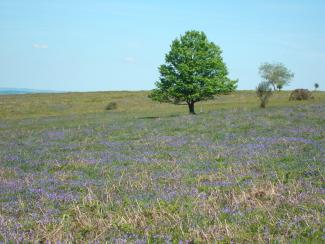 Geology, soil type and the human influences of agriculture and mining have shaped many of the Mendip Hills distinctive landscape features, and influenced the variety of habitats and their particular flora and fauna.
Over millennia, human activity has reduced the cover of woodlands, creating open habitats such as heathland and limestone grasslands. However later land enclosures enabled farmers to create more agriculturally productive pasture at the expense of these grassland habitats. More recently, technological innovations have led to significantly increased agricultural yields, and consequently there has been a reduction in biodiversity of these habitats. Species rich grassland habitats are now increasingly rare and only occur where low intensity management takes place and on inaccessible areas difficult to plough.
Habitats of particular importance in the Mendip Hills are heathland, acid grassland, calcareous grassland, neutral grassland (meadows), calaminarian grassland (occur on lead mined spoil heaps), purple moor grass and semi -natural ancient woodland with typical Mendip species, ash and lime.
---