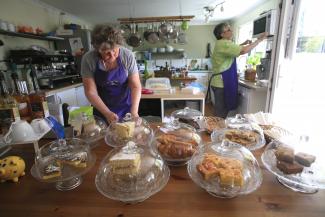 The Mendip Hills AONB is a very popular visitor destination enjoyed by all sectors of our diverse society for active and quieter recreational pursuits. Outdoor recreation is proved to benefit people's health and wellbeing through exercise and opportunities to escape the pressure of everyday life. Being within a 30 minute drive of Bristol, Weston Super Mare and Bath the Mendip Hills is accessible to these urban populations as well as the local rural communities.
Most visitors to the Mendip Hills AONB are day visitors but tourism is increasingly an important part of the local economy as farmers diversify providing holiday accommodation. Rural facilities (shops, pubs, public transport) need to attract additional business to survive and growing interest in green tourism has the potential to create new employment opportunities. Cheddar Caves and Gorge, Wookey Hole Caves and Bristol Water's Chew Valley and Blagdon lakes are major tourist attractions making significant contributions to the rural economy.
The AONB is working with other local organisations to promote responsible tourism and to increase the benefits that tourism can bring to the area without causing damage to this very special place.
---