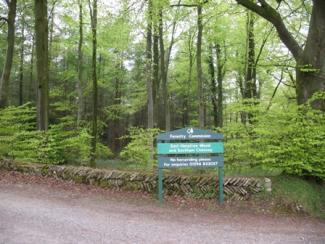 Woodland covers 14% (2,785 ha) of the AONB and significantly contributes to the landscape character and biodiversity. Half of the woodland, some of which is ancient woodland, is semi natural broadleaved woodland situated mainly on the north and south facing slopes of the hills. The Government's Forestry Policy Statement recognises the value of our native and ancient woodland and the need to maintain existing ancient woodland and increase the net area of native woodland.
The Forestry Commission manages the conifer plantations at Rowberrow, Stockhill and East Harptree to maximise timber production and public benefits. Guided by Forest Design Plans they are gradually being transformed into more diverse woodlands. These and other areas of woodland are accessible to the public for recreation and the value to people in having this access should be recognised.
Semi-natural ancient woodlands are an important feature of the steep scarp slopes including Kings Wood (owned by the National Trust) and Dolebury Warren Wood (owned by the Woodland Trust).
---