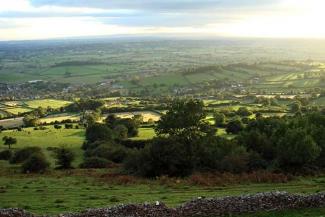 The Mendip Hills Area of Outstanding Natural Beauty (AONB) covers an area of 198 km2 offering a landscape with a very strong character defined by their geology and position rising abruptly from the Somerset Levels. Species-rich scarp slope woodlands, calcareous (limestone) grassland and the sparsely settled open plateau defined by dry stone wall enclosures contrast with the Chew Valley with pattern of hedgerows, spring line settlements, and lakes.
Almost every stage of the British human history can be seen in the way the landscape has been developed and changed. The type of land and natural resources of the AONB have influenced the patterns of agriculture, settlement, industry and culture. The places we now see as special are the result of these interactions between people and the places they live and work in.
Fantastic opportunities exist for you to enjoy the area's special qualities through the rights of way network and recreational routes. Routes such as the Mendip Way, Limestone Link and the Strawberry Line offer real opportunities to escape the hustle of everyday life.
We all have a shared responsibility to care for the AONB and the AONB Partnership works closely in partnership with local communities, conservation organisations, volunteers, local authorities, businesses and farmers.
You can play your part too by learning more about the landscape, wildlife, cultural heritage, farmers and farm animals.
---